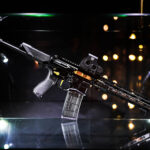 Paladin 5.56 11″
August 17, 2023
Ultimate 5.56 NATO Barrel 11″
$400.00 – $420.00
Details
GQ Armory Ultimate 5.56 NATO Barrel 11″

Looking for the best possible 5.56 NATO barrel? Look no further. This is the same barrel that comes as standard in our flagship Paladin 556 series. What makes this barrel so special? For one, we start with a premium 416R barrel blank. We cut the bore and chamber to match-grade specifications as it must adhere to our accuracy standard of sub-MOA at 100 yards. The profile has weight taken out of all non-critical areas to make it as light as possible without sacrificing accuracy, which allows us to achieve the ultra-light 18 oz weight. For reliable feeding, the barrel is mated to a premium extension with enhanced feed ramps. Featuring a 25′ SIG/Q taper and reinforced muzzle threads, securely mounting your favorite muzzle device or silencer is a breeze.
FEATURES & SPECS:
– 7″ ULTRA MATCH-GRADE .300 BLACKOUT BARREL
– 1:7 TWIST
– 1/2X28 MUZZLE THREADS
– CARBINE LENGTH GAS PORT .750″ JOURNAL
– 25′ SIG/Q TAPER
– 18 OZ
– PREMIUM 416R STAINLESS BARREL BLANK AND BARREL EXTENSION
– SUB-MOA ACCURACY @ 100 YARDS
– MIL-SPEC AR-15 COMPATIBLE
– WARRANTY: LIFETIME. IF YOU CAN BREAK IT, WE WILL FIX IT!
**Technical Notes – Please Read**
– Our 5.56 NATO barrel features a 25′ tapered shoulder for securely mounting muzzle devices and silencers. For use with a 90′ muzzle device or silencer, a tapered shoulder adapter must be used (see options above)
 ==========================================================