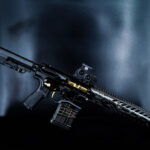 Paladin-10 Carbon .308 Win 12.5″
February 27, 2022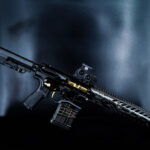 Paladin-8.6 Blackout Carbon 12″
May 18, 2022
Lightweight AR-15 Handguard 6″
$218.50
Details
GQ Armory Lightweight AR-15 Handguard 6″

The same lightweight AR-15 handguard featured on our PDW format firearms. The complete assembly and mounting hardware only weighs 6.1oz. Made from forged 6061 aluminum mated to a 7075 aluminum barrel nut. Weight was taken out wherever possible without making any compromises. Our lightweight AR-15 Handguard also features a "C" cut end for optimizing the use of a hand stop as far out as possible. Generous M-LOK attachment points. Dual QD Sling Mounts. Ideal for 6.5″ barrels with 90′ shoulder or 7″ barrels with a Sig/Q 25′ tapered muzzled.
FEATURES & SPECS:
– FORGED ULTRA LIGHT 6061 ALUMINUM CONSTRUCTION
– TYPE III HARD COAT ANODIZED
– FORGED ULTRA LIGHT 7075 ALUMINUM BARREL NUT
– M-LOK ATTACHMENT POINTS
– DUAL QD SLING MOUNT ATTACHMENTS
– SCALLOPED PICATINNY RAIL FOR MAXIM WEIGHT SAVINGS
– C CUT END FOR MAXIMUM PURCHASE AREA ON A PDW FORMAT HANDGUARD
– LENGTH: 6.25″
– WEIGHT: 6.1 OZ
– WARRANTY: LIFETIME. IF YOU CAN BREAK IT, WE WILL FIX IT!
 ==========================================================