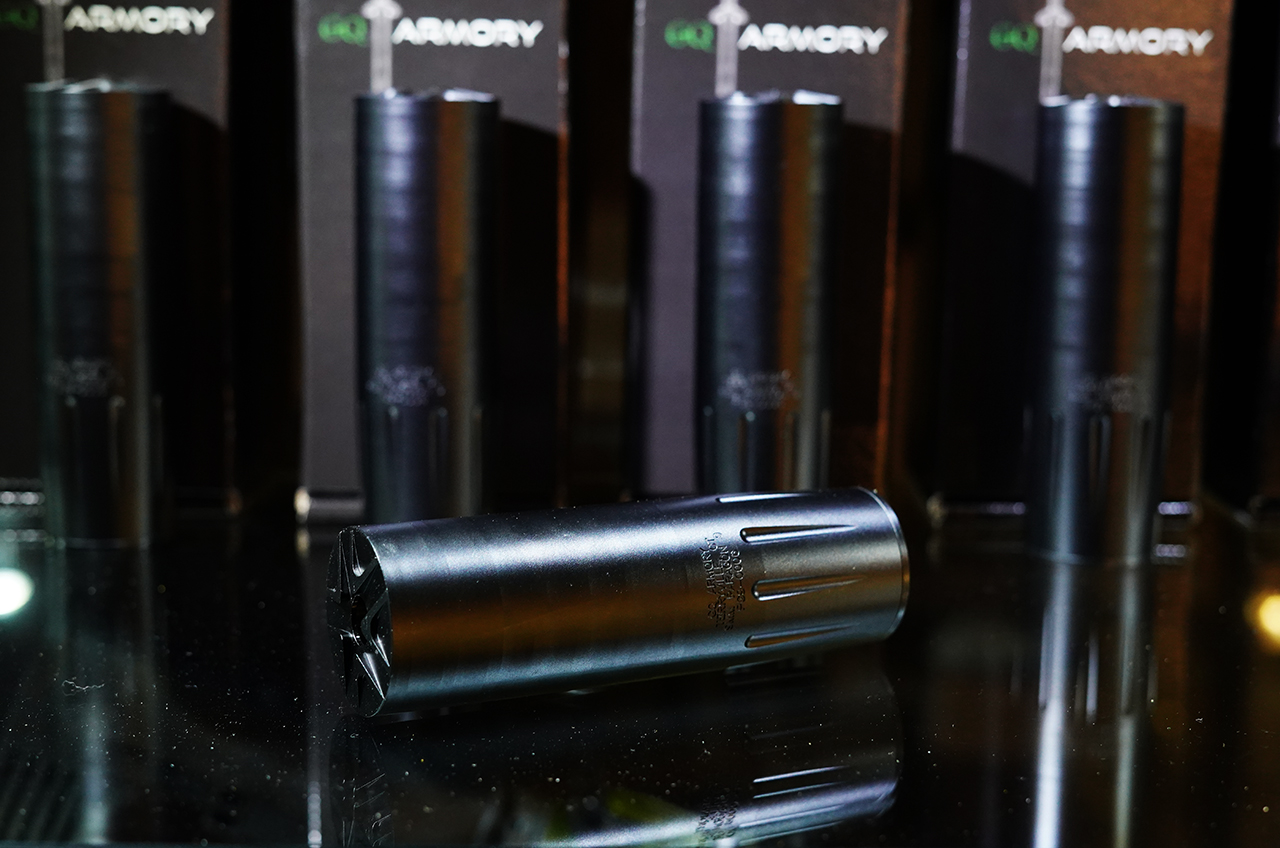 Paragon 9mm Silencer
August 15, 2022
Paladin-8.6 Blackout PDW 8″
September 28, 2022
Paladin 6mm Arc 11″
$3,400.00 – $4,350.00
Details
The Paladin 6mm Arc AR15 Carbon:  Long distance shooting meets CQB

How does a thousand yard AR15 that weighs less than 5 lbs sound? The Paladin 6mm Arc AR15 is a rifle for those who want to shoot far without the size and weight of conventional long range rifles. 6mm Arc, a cartridge created by Hornady has the lowest coefficient of drag of any projectile and will easily remain supersonic past 1000 yards. Special forces have adopted the cartridge because of its ability to blend CQB and Long Distance Shooting together. The heart of the platform is our ultimate match grade 11″ carbon fiber 6mm Arc barrel. Ultra-lightweight profile, that does not sacrifice accuracy. Wrapped in forged carbon fiber for rigidity, 1:7 twist, 5/8×24 TPI, a 25′ SIG/Q taper and topped off with a premium wide mouth feed-ramp extension to help reliably feed 6mm Arc in the AR platform. The Paladin 6mm ARC AR15 is sub-MOA accurate and easily capable of 1000+ yard shots. The Paladin 6mm Arc AR15 also features our ultralight 10″ forged carbon fiber MLOK handguard. Want to run suppressed? No Problem. The Paladin 6mm ARC AR15's gas system is fully tune-able to run with or without a suppressor, while keeping gas blowback and felt recoil at a minimum. Loaded with titanium and carbon fiber, the Paladin 6mm Arc weighs in at a mere 4lbs 9oz is only 24.75″ long making this the lightest 1000 yd+ rifle available today. Our Paladin series get nothing but the absolute best components and materials with no need whatsoever to upgrade anything, just add your optic of choice and go!
FEATURES & SPECS:
– CALIBER: 6MM ARC
– GQ ARMORY LIGHTWEIGHT TYPE III HARD COAT ANODIZED BILLET 7075 RECEIVERS
– GQ ARMORY FORGED CARBON 10″ HANDGUARD
– GQ ARMORY TDC BCG (SMOOTHER RECOIL AND EASY CLEANING)
– GQ ARMORY BRONZE TITANIUM LIGHTWEIGHT TAKEDOWN PINS
– AMBIDEXTROUS BOLT RELEASE (SAY GOODBYE TO BAD LEVERS)
– BIG APPLE FLARED MAGWELL
– GQ ARMORY 11″ CARBON FIBER ULTRA-MATCH GRADE 6MM ARC, 1:7.5 TWIST, 5/8×24 THREAD, TAPERED MUZZLE
– LIGHTWEIGHT ADJUSTABLE LOW-PROFILE GAS BLOCK
– REARDEN FHD FLASH HIDER – FAST ATTACH CHERRY BOMB / PLAN B FORMAT SILENCERS AND MUZZLE ACCESSORIES (GQ ARMORY ONYX-K SILENCER PICTURED)
– GOLD TITANIUM CASTLE NUT, BUFFER DETENT, TRIGGER PINS, HANDGUARD SCREWS AND PISTOL GRIP SCREW
– TRIGGER: GOLD, SINGLE STAGE, 3 LBS W/ANTI-WALK PINS
– GQ ARMORY WARHAMMER GAS-MITIGATING CHARGING HANDLE
– GOLD AMBIDEXTROUS SAFETY SELECTOR
– ENHANCED EXTENDED MAG RELEASE
– LENGTH: 24.8″ COLLAPSED, 29.5″ FULLY EXTENDED
– WEIGHT: 4 LBS 9 oz SBR, 4 LBS 11 oz PISTOL
– WARRANTY: LIFETIME. IF YOU CAN BREAK IT, WE WILL FIX IT!
GQ Armory Onyx-K Silencer:
– .30 CALIBER BORE
– GRADE 5 TITANIUM
– DLC (DIAMOND LIKE COATING)
– 1.625″ OD
– LENGTH: ONLY 6″ LONG
– WEIGHT: ONLY 8.4 OZ
– INDUSTRY STANDARD 1.375×24 INTERNAL THREAD FOR ENDLESS MOUNTING OPTIONS
– WILL SHIP WITH TITANIUM PLAN-B STYLE (FAST ATTACH) MOUNT FOR PALADIN INSTALLED
– FULL SIZE SILENCER PERFORMANCE IN AN ULTRA COMPACT AND LIGHTWEIGHT PACKAGE
– FULL AUTO RATED FOR .300 BLACKOUT
– UP TO .300 WM WITH RESPONSIBLE FIRING SCHEDULE
– WARRANTY: LIFETIME. IF YOU CAN BREAK IT, WE WILL FIX IT!
Please note lead times may vary and are based on the current order queue. It is our upmost priority to get our products out the door as quickly as possible without sacrificing quality and just know we are doing everything within our power to deliver these to you guys! For status on your order, please do not hesitate to email us through the Contact Us section or call us directly. We are more than happy to talk to you! We truly do appreciate your support and patience. Thank you so much! – The GQ Armory Team
 ==========================================================
Additional information
| | |
| --- | --- |
| ***FFL Required*** | .When purchasing a firearm or other restricted item, federal law requires that it MUST ship to a licensed dealer in your state. Please have your FFL send a copy of their license to ffl@gqarmory.com or put their information in the Order Notes section and we'll take care of it for you. Please use your own information for billing and shipping as this is only for payment verification. If you need assistance locating a dealer to have your firearm shipped to, please contact us or enter your zip code at the GunBroker FFL dealer network website. |
| Add Onyx-K Silencer (Discounted) | No, Yes (+950.00) |